Tourist Attractions

The Golden Temple



The Golden Temple in the heart of Amritsar is the most important pilgrimage of not only the Sikhs all over the world, but also believers of other religions, as the doors of the Gurdwara are always open for everyone irrespective of their religion, caste and creed.

The majesty of the Golden Temple has to be seen to be believed. It is one of the most tastefully decorated shrines, in terms of art and architecture, which speaks about the devotion and sensibilities of the devotees.

Hari Mandir

Hari Mandir, situated inside the Golden Temple complex is a 52-meter, square-based structure. Inside the Temple, the Guru Granth Sahib (holy book of the Sikhs) is placed on a palanquin set with emeralds, rubies and diamonds with silver poles and a golden canopy.

Akal Takht

Akal Takht is the headquarter of Shiromani Gurudwara Prabandhak Committee or the Sikh Parliament. It is also the place where Guru Granth Sahib is kept during the night.

Guru Ka Langar

The langar (community kitchen) at the Golden Temple is another major attraction. Here volunteers prepare free meals for thousands of people everyday and everyone is offered the food.

Jalianwallah Bagh

Jalianwallah Bagh is another historical place at a distance of five minutes from the Golden temple, where the martyrs of the AD 1919 massacre are immortalized. Here a Martyrís Gallery is maintained now, where one can go and pay homage to those who lost their lives in one of the worst carnages of its times.

Other Travel Attractions

Baba Atal Rai Tower is located at a little distance from the Golden temple. This nine-storied building is named after the son of Guru Har Gobind. At Ram Bagh is the Maharaja Ranjit Singh Museum where miniatures belonging to the 19th century can be seen. Durgiana Temple is in the vicinity of Golden Temple and houses Hindu Goddess Durga. Mata Lal Devi Temple is dedicated to a woman saint Lal Devi where thousands of childless women come wishing a child. Ram Tirath is located just outside the city of Amritsar where one can get a glimpse of statues illustrating scenes from the Ramayana.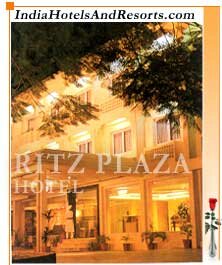 Hotels

There are enough decent accommodation options in Amritsar and the scene is getting better every passing day. There are a number of star category hotels catering to the needs of tourists coming to explore Amritsar or interesting in exploring the scenic region around.


Hotel Reservations

IndiaHotels&Resorts.com will book hotels in Amritsar for you depending on the budget you can afford. IndiaHotelsandResorts.com is a part of Indian Holiday Pvt. Ltd., a leading inbound tour operator to India and maintains very good professional relationship with all the major hotel chains and independent properties in India including Amritsar. It helps us in offering you competitive hotel tariffs.