The third largest city in Tamil Nadu will not fail to charm you. Welcome to an unparallel holiday experience at Coimbatore. Often referred to as 'the Manchester of South India' Coimbatore is renowned for its numerous textile mills besides being a major manufacturer of motor pump sets and diverse engineering and electronic goods.



For the tourists Coimbatore offers several places of interests. For kids and those young at heart the V.O. Chidambaram Park with a mini zoo and a children's amusement park is a must visit. Though the water sports and amusement park Black Thunder makes an interesting option it is little away from the Coimbatore city. Close to the park is The Nehru Stadium a popular venue for football tournaments and athletic meets. For those of you would like to try out some roller-skating there is a rink right in front of the stadium. The Forest College Museum is another interesting tourist spot besides the City museum. The city of Coimbatore is fast catching up to the entertainment games like bowling. For your recreation you may check out the various clubs like the Coimbatore Golf Club, The Cosmopolitan Club, The Coimbatore Club, the Coimbatore Flying Club et al. The Coimbatore Auto Sports Club reveals the passion of motor racing amongst the localities of Coimbatore. The club organizes several rallies annually.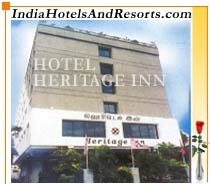 While in Coimbatore do not forget to pray at the Perur Patteeswara Swamy temple, the Marudhamalai temple of Lord Muruga and the Sri Mahalakshmi mandir. For shopping you must check out the Cross Cut road. Cotton garments and other clothes are a must buy in Coimbatore that specializes in the textiles.

In order to make the travel tour to Coimbatore even more joyful we at IndiaHotelsAndResorts.com offer just the right kind of accommodation for you and your family or friends in Coimbatore. We at IndiaHotelsAndResorts.com can customize the tour package and offer the hotel accommodation. The reservations of the room can be made well in advance as per the requirements of the tour.

The various hotels packages offer the best of facilities. The well-furnished rooms place most of the comforts at your feet. Enjoy the luxuries of life on your stay at the hotel. Take your pick from a range of luxury and budget hotels in Coimbatore besides the star categorized accommodation hotels. We at IndiaHotelsAndResorts.com will provide all the travel services like air ticketing, hotel booking, car rental et al to make your holiday at Coimbatore unforgettable. Get ready to get captivated by Coimbatore.