Taj Exotica - Goa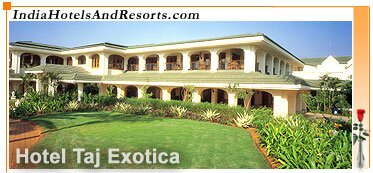 With the Taj Exotica set like a jewel amidst lush foliage, the Arabian Sea gently lapping against its pure white beach, what more charming way to begin the journey of paradise than here. Where the stretches of pristine sand heighten the beauty of the most secluded beaches in Goa. As you sweep into the portico from the sleepy little village of Benaulim, you are surprised by the easy life, the peace, and the friendly smiles.

more...



Ananda in the Himalayas - Uttaranchal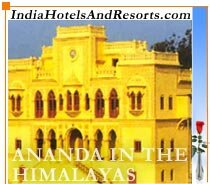 The 21,000 square foot spa offers an extensive menu of over 79 body and beauty treatments, integrating the traditional Indian systems of Ayurveda with the more contemporary Western spa approach. The spa experience strives to achieve the ultimate harmony between the physical and the mental realms of the individual.

With unique focuses on the traditional Indian sciences of Yoga and Ayurveda, Ananda Spa creates the skillful synthesis between age-old therapies and modern spa technology. The personalized therapy and activities programs is designed to meet individual needs and health goals - de-stress, detoxification and cleansing, deep relaxation, anti-aging, weight & inch loss, while also offering guidance in the areas of nutrition and exercise.

more...



Aguada Hermitage - Goa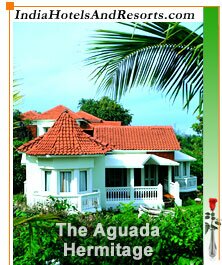 Nestling amidst a profusion of flowers and trees, The Aguada Hermitage is carved out of a verdant hillock. Designed especially as a retreat for the Commonwealth heads of Government in 1983, each villa is a perfectly secluded haven of privacy, and has played host to distinguished guests such as Indira Gandhi and Margaret Thatcher.

The Aguada Hermitage has 140 air-conditioned villa rooms. The complex comprises of independent one-bedroom villas, two-bedroom interconnected units, three and four bedroom units and even a six or eight bedroom block for large groups.

All villas are elegantly appointed and offer guest amenities like international direct dial facility, channel music and color television with satellite programs.

Other facilities and services offered at the Aguada Hermitage are Beauty parlor, Ayurvedic massages, barber shop, travel desk, car rental, shopping arcade, currency exchange, safe deposit lockers, doctor-on-call and babysitting, 24-hour copier/facsimile facilities, Laundry service (until 8 p.m.) and room service (until 11 p.m.).

more



Udaivilas Resort - Udaipur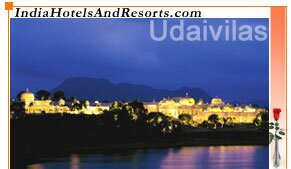 Savor the retreat at Udaivilas to explore the fabled city of Udaipur, renowned for its palaces, lakes and colorful bazaars.

The Oberoi Group's Udaivilas Luxury Resort and Spa encompasses 30 acres of manicured gardens and courtyards. Designed as a Mewari palace, the resort recreates the luxurious ambience of a royal residence, complete with decorative water bodies and carved stone pillars. The Spa Menu includes holistic non-clinical treatments ranging from ancient Ayurveda to aromatherapy. The resort adjoins a 20-acre wildlife conservatory which houses Indian spotted deer, wild boar and peacocks.
more...
Vanyavilas Resort - Sawai Madhopur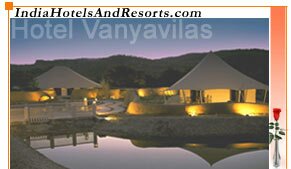 The first luxury jungle resort in India, Vanyavilas is located in Ranthambhore - Sawai Madhopur, in Rajasthan province in northwest India. The resort is situated adjacent to the famous Ranthambhore Tiger Reserve. The Ranthambhore Tiger Reserve is recognized for its variety of wildlife.

The luxury resort is set over 20 acres of land, which has over 1500 trees, which includes orchards of mango, lemon, guava and Indian gooseberry. There are pathways throughout the property with bridges crossing an 850 ft. long water-body with lotuses and colorful fish Vanyavilas consists of luxury air-conditioned tents with their own private walled garden located discretely so as to ensure maximum privacy.

more...




The Leela Palace - Goa


Discover a resort in a class of its own: Recreating the architectural beauty of the 13th century Vijayanagara palace architecture along with the 18th century Mediterranean style design is, The Leela Palace, Goa. It is an integral part of Kempinski International Hotels. The Leela Palace has also won the prestigious World Travel Award for being one of the best luxury beach resorts in Asia-Pacific. The Leela Palace, Goa is one of the ten most luxurious beach resorts in the world, nestled quietly in lush tropical gardens at the tip of Mobor Beach.

The Leela Palace has 4 Royal Villas, 5 Lagoon Deluxe Suites, 74 Lagoon Suites, 18 Ocean Villa Deluxe Rooms, 54 Pavilion Rooms and 1 Presidential Suite. The Royal Villas feature a private plunge pool each.

more...



Taj Lands End Hotel - Mumbai


Taj Lands End overlooks the Arabian Sea at Lands End, the tip of the historic Bandstand area of Bandra in Mumbai, India's premier financial and commercial city. Taj Lands End is the only luxury property in this part of Mumbai and is providing new standards of service excellence to business travelers. An 18-storey hotel, with a dramatic 3-storey marble atrium has 300 rooms and suites, each of which offers a panoramic view of the Arabian Sea. The décor is light and airy, a mix of pale pastels and dark wood. Color schemes are either based on peach or beige. The rooms are beautifully appointed and particularly designed to meet the needs of the business traveler. Large desks are hand-made from the finest hardwoods. A standard feature in all rooms is the five fixture marble bathroom, including a separate shower cubicle.

more...



Kumarakom Lake Resort - Kumarakom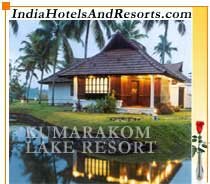 Nestled amidst 10 acres of greenery. Looking out to a panoramic view of the Vembanad in all its glory. And cosseted on all sides by swaying palms, Kumarakom Lake Resort is a haven of peace and tranquility.

Discover first-hand the true Kumarakom hospitality. From a quick check-in to a leisurely room service. The first thing that you notice is the view. And the lure of the cool, invigorating pool overlooking the lake. Dive in, and you can imagine yourself in the lake with just the blue sky above.

Work up a healthy appetite to savour our Chef's masterpieces - Thamarappam (soft rice and toddy bread - Lotus Appams) and Prawn Mappas (succulent shrimp in coconut milk and traditional marinade).

more...



Golden Palms Spa and Resort - Bangalore


The Golden Palms Spa & Resort offers the traveler hospitality in the highest traditions of India. A welcome as warm as this ancient land will enfold you as soon as you step through our doors.

Be prepared for a standard of splendor that you thought was long past. With themed suites, superb banqueting and conference facilities that reflect the majesty of India's kingdoms of old, conferences and meetings can now be held in a world of sumptuous luxury once enjoyed solely by Maharajas, Moghuls and Viceroys

more...



Sun Village Resort - Goa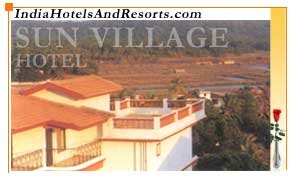 Sun Village has 135 well appointed air-conditioned executive suites, comprising of individual living and bedroom area, attached shower, w.c. and private balconies. Each room is furnished with double /twin beds. Other facilities include CCTV, channel music, telephone with intercom facilities; fridge, and mini bar.

The Sun Village Resort has 135 well-appointed air-conditioned executive suites comprising of individual living and bedroom areas, attached shower, W.c. and private balconies. While at the Sun Village resort you may enjoy the facilities like swimming pool with kiddies section, Shopping Arcade, Health Club and Beauty Parlor

more...