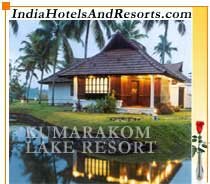 About Hotel Kumarakom Lake Resort

Nestled amidst 10 acres of greenery. Looking out to a panoramic view of the Vembanad in all its glory. And cosseted on all sides by swaying palms, Kumarakom Lake Resort is a haven of peace and tranquility.

Discover fist-hand the true Kumarakom hospitality. From a quick check-in to a leisurely room service. The first thing that you notice is the view. And the lure of the cool, invigorating pool overlooking the lake. Dive in, and you can imagine yourself in the lake with just the blue sky above.

Work up a healthy appetite to savour our Chef's masterpieces - Thamarappam (soft rice and toddy bread - Lotus Appams) and Prawn Mappas (succulent shrimp in coconut milk and traditional marinade).

Kumarakom Lake Resort offers much more than a holiday. We help you detoxify your system, clear your mind, enjoy fresh wholesome food, fresh fish from the lake and seafood, holistic Ayurvedic massages, Yoga and the opportunity to be one with nature at its best.




Hotel Specifications

Accommodation

They are straight out of a fairy tale. Cute cottages blending old-world charm with befitting modern amenities. The intricately carved wooden walls and the roof within the cottage are of hand polished wooden panels.

The front door is a sight to behold, banded with handcrafted grass locks of brass. All furniture are original antiques.

Even the light switches and shades reflect an age when time moved at a leisurely pace. Paintings by renowned artists adorn the walls. They depict scenes from Hindu epics and are in the temple mural style.

Each cottage has a private courtyard and a sunken bath set in a small open-air garden. Just imagine bathing under a moonlit sky or in the rain! And that too in complete privacy.

The traditional windows have sills where you can comfortably sit and gaze out across the lotus canals slicing the front yard.

You have a choice of 52 cottages consisting of Standard Heritage Villas and Superior Heritage Villas

Standard Heritage Villas: Standard Heritage Villas offers scintillating view of the lotus canal.

Superior Heritage Villas: Superior Heritage Villas offers a panoramic view of the lake in all its glory



Dining

'Ettukettu' (8-sided) restaurant

Holding court regally is the Ettukettu. A multi cuisine 115 seater Specialty Restaurant (A/c and non A/c). It occupies, aptly, a pride of place in the centre of the complex. And lining one corner of the Ettukettu is the well appointed bar.

Stroll leisurely down the verdant lawns to this magnificent traditional structure which formerly housed a noble family. Park yourself and choose from a choice ranging from Continental, Chinese, Muglai, North Indian or Traditional Kerala cooking. Of course, we proudly recommend you choose the latter. And rest assured, Kerala cooking is not as hot as its counterparts from neighboring states. Kerala curries usually have very little chillies and is mostly flavored with ginger, cardamom, garlic, cinnamon etc.

At the Ettukettu Restaurant, stress is on ethnic Kerala cooking. Specialty served here include Syrian Christian Duck Roast, Duck Curry, Karimeen Pollichuthu, Karimeen Mappas, soft spongy rice bread called Appams, Thamarappam speciality, Iddiappams (string hoppers).

Try out "Karimeen Pollichatu" the banana leaf-wrapped Pearl Spot Fish lavishly marinated in speciall spice mix and grilled. Kerala style curries, be it of vegetable, meat or fish, are usually generously creamed with coconut milk and often spiked with tamarind, raw mangoes or jaggery.

The first choice for breakfast dish is the "Puttu" (rice flour dough layered with grated coconut and steamed in hollow bamboo cylinders) eaten with spicy curry made of chickpeas.

Once a week, the restaurant has a cook-out where one special item is cooked right in front of the guests.

Coffee shop Anytime you feel like a nibble, make thee to the coffee shop. Hot packoras, samosas, dosas and hot steaming coffee, your favorite soft drink or a variety of ice-creams.

Outdoor barbecue How about a barbecue, in a golden sunset, under starry skies, under swaying palms on a moonlit night? Right beside the pool to the side of the Arts Centre (where the cultural performances are staged). Enjoy tasty Kebabs while you watch Gods take centre stage. Or the performance of a live band.

'Ettukettu' (8-sided) restaurant - a traditional Kerala mansion, once home to the most prominent family in the community, today it serves up a host of mouthwatering Indian, Chinese or Continental delicacies.