Hotels in Shekhawati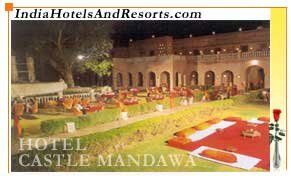 Popularly known as the open art gallery of Rajasthan, Shekhawati is an invaluable contribution of the Marwari traders of Rajasthan. This semi-desert region is known for its colourfully painted havelis (mansions) that are commendable pieces of the great artistic tradition of Shekhawati. The name Shekhawati literally translates into 'the land of Shekha's clan'-a name derived from Rao Shekha of the 15th century and a scion of Kachhwaha family of Jaipur. The region extends over two districts of Rajasthan, namely, Jhunjhunu and Sikar. Most of the havelis were constructed between AD 1750 and 1930 by the Marwaris, but successive droughts forced many of these families to leave the state. For a long period, these havelis remained in sheer neglect and started crumbling when one or two wealthy Marwaris took the initiative in restoring them. The money flowed in the next few decades and the entire region attained great touristic value.

The architectural style of the havelis or mansions here evolved mostly around the courtyard. This was done to ensure safety and privacy of the womenfolk from the extreme summers of the region. Most of the havelis are painted in many colors like indigo, yellow, green, maroon, and blue and beautiful wall paintings adorn the walls.

Tourist Attractions in Shekhawati

No other region in Rajasthan is perhaps so rich artistically as Shekhawati. Creating beautiful images by using vibrant colors is not a hobby or professional practice but a way of life. Mandawa is a small town founded in the 18th century by the wealthy Marwari businessmen. Nawalgarh, not far away, is known for some curious images painted on the walls of havelis.



Accommodation in Shekhawati

There are enough decent accommodation options in Shekhawati and the scene is getting better every passing day. There are a number of heritage hotels catering to the needs of tourists coming to explore Shekhawati or interesting in exploring the scenic region around.

In order to make the travel tour to Shekhawati even more joyful we at IndiaHotelsAndResorts.com offer just the right kind of accommodation for you and your family or friends in Shekhawati. We at IndiaHotelsAndResorts.com can customize the tour package and offer the hotel accommodation. The reservations of the room can be made well in advance as per the requirements of the tour.

Hotels in Shekhawati

Heritage Hotels in Nawalgarh


Hotels in Mandawa

Heritage Hotels


Hotels in Dundlod

Heritage Hotels


Hotels in Jhunjhunu

Heritage Hotels


Hotels in Khimsar

Heritage Hotels